Product Description
CRYO CO2 JET BLASTER

DMX 512 controlled CO2 Jet Blaster for Fixed Install Special Effects
This Cryo CO2 Jet Blaster is the perfect addition to any Nightclub or Dancefloor that wants to take their special effects to the Next Level.
The CO2 Jet shoots a 25' - 34' foot high stream of CO2 CRYO Plumes which ranges from 4'-6' feet wide,
cooling down an area or dancefloor with CO2 Cold Air/Gas in seconds and providing an awesome special effect for the crowd, stages, or performance area.

Our CO2 Jet Blaster install piece works with high and low pressure CO2 Systems and is available in 110VAC, or 220VAC.
This unit comes ready to use, pre-assembled, it is lightweight with a high CO2 output, and very easy to hook up.
Included is a instruction manual and installation guide as well as 15 feet of our high pressure CO2 Hoses with quick connect and high quality brass connectors.
Our special Nozzle on this unit actually reduces output noise and operates much quieter than previous models,
This Cryo Jet is ready to go, multiple units can be linked together, Controlled manually (Electronic Control) or with DMX 512 Controls.
Take your Dancefloor to the Next Level in Special Effects and Cool Off the crowd while they dance the night away in style!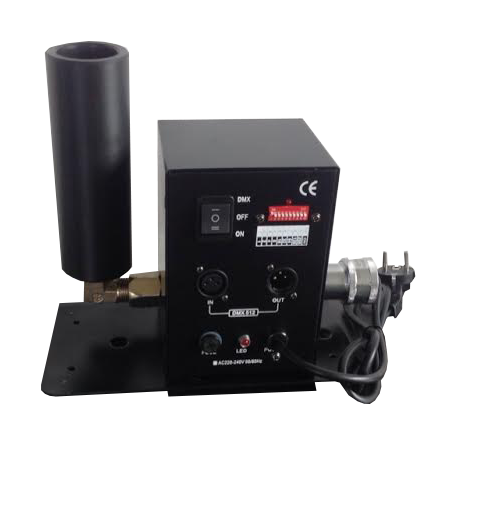 CRYO CO2 JET Blaster DMX512
Product parameters:
Power: 600W
Control: electronic control and dmx control mode
Spray Height: 4-5 meters
Voltage: AC 110V, 220V 50/60Hz
Weight: 12KG
Size: 240 x 120 x 340mm

*Please use machine responsibly
*Read instructions carefully before use
*If your still not sure of how to operate, please call to get further instructions
*Do not consume any alcohol while operating the machine
*Do not allow any children under the age of 18 to operate it unless supervised by an adult
Disclaimer: Nightclubshop is not responsible for any misuse that may lead to any injuries. Nightclubshop iss also not reponsible for any professional installation, because this equipment DOES NOT require it. You will be solely responsible if you decide to modify or professionally install the equipment to meet your standards. .
***OUR SPECIAL EFFECTS EQUIPMENT ARE TESTED AND FITTED AT OUR NIGHTCLUBSHOP WAREHOUSE TO MEET USA SAFETY STANDARDS ***
Other Details
CRYO CO2 Jet Blaster 90 Days Warranty on Parts and Labor
Product Videos
Custom Field
Product Reviews