Product Description
RF REMOTE CONTROL
LED WRISTBANDS BRACELETS

Sold by the 100 Pack
Remote Control not included
One of the most sought after Nightclub and Special Events products of 2016, The Newest and Hottest products to hit Miami, Las Vegas, New York, California, Texas, and now Overseas, The RF radio Remote Controlled LED WRISTBAND / BRACELETS. These remote controlled LED BRACELETS are made of impact resistant and heavy duty silicon with multiple high powered RGB LED's lights inside to make them Light up and shine!
Multi-Color RGB, you can instantly change the LED Wristband Light Up Colors !
Check out the Video Below of the Remote Controlled LED Wristbands RF Bracelets in Demo.
These LED Wristbands RF Bands are now available at a more reasonable price...When they were first created and introduced to the Nightclub, and Special Events Wristband industry, they were over 13$ per LED Wristband. Custom Manufactured and now made out of better construction materials, (Silicon instead of Hard Plastic) NightclubShop.com is finally able to offer these to our VIP Clients and loyal customers with a new low pricing that is much more accessible for Mid-sized and Smaller Venues, Nightclubs, Festivals, Special Events, Corporate Functions, or even Birthday Parties and Weddings!
Control as many as 5000 RF Radio Controlled Multi-Color-RGB Color Changing LED Wristbands with only (1) One RF Remote Controller or....
Call in and request Custom RF (Radio Frequency) order, with 3 or 4 different Wristband Rf Remote Controllers, and 4 Different Batches of LED wristbands set to those 4 different Radio Frequency Channels,
Then you could set up 4 Zones, varying from all set to the same LED WRISTBAND Color or MODE together, or you can Control each Zone separately and each Controller can control up to 100 to 5000 Bands each on a different Rf Frequency - (For the Famous Ping Pong Effect)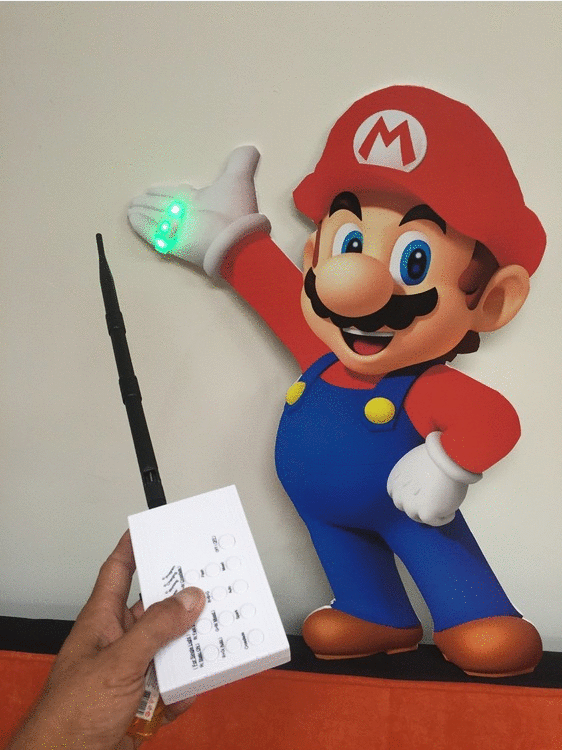 OPTIONS
*RF Remote Controller Controls UP TO 5000 PIECES per remote
*12 Different Modes +ON/OFF
*Dual Powered Remote Control, you can Plug it in or use its onboard Rechargable Battery.
*Also available with your LOGO or ART Printed on the top
*MINIMUM ORDER of Only 100 RF LED Wristbands*
*in-stock NOW, No Production Time Wait/No Lead Time (Non Customized)
REMOTE CONTROL UNIT SOLD SEPERATELY,
CLICK HERE TO BUY REMOTE CONTROL UNIT
The Base/Remote Control Unit has 2 Different Set-Up Features!
You can plug the Base/Remote Controller into the wall outlet, and use the Outboard Extended Reach Powered Antennae, (Pictured Above) or use the built in Rechargeable Battery System and screw in the Portable Radio Antennae and take the Remote "To Go!"
(Super Mario Picture, Above Left).
Custom Field
Product Reviews