Product Description
LED FURNITURE 16" CUBE
Choose what color you want your furniture to be wirelessly!
BULK PRICING AVAILABLE - CALL 813-720-0409

A beautiful way to spice up and design any nightclub Vip, lounge, Members club, or home, these "16 inch LED Furniture Cubes" are practical and great looking, designers and lighting technicians love them and they are very easy to set up and maintain. Color changing, Wirelessly controlled, rechargeable and wireless, also water resistant.
These LED GLOW FURNITURE PIECES can be used as accents or actual tables or chairs in any creative environment and area. Many functions available for lighting sequences on the remote control ,Nightclubs and Event Planners must have these in their arsenal and can move them around and place them practically in a different spot every night.

These are very sturdy and are capable of being used as chairs or as a small table, the "16 inch LED Furniture Cubes" will bring a new look to any room or area while still being fully functioning pieces of furniture with style and flair.
The "16 inch LED Furniture Cubes" are very easy to clean and are water resistant making them much more practical and maintainable in a club and rave setting, if they are dirtied they can simply be cleaned off and wiped down without any worry.
Each Cube comes with a wireless remote control to easily control the multiple settings and functions that includes a color fading setting, through many colors, or just solid colors, you choose what color you want the furniture to be.
THESE LED CUBES CAN ALSO BE CUSTOMIZED WITH YOUR ART/LOGO/VENUE NAME,
Custom Art and Design Process for LED CUBES or LED Furniture, Balls, Orbs, Tables, Chairs
is available in house and only takes 2-3 days
CALL FOR CUSTOMIZATION INFO:813-720-0409
Indoor/Outdoor
Waterproof
Size: 16" H x 16" W
Brightness Control - 2 Settings
Select From 16 Different Colors
Choose From: Flash - Strobe - Smooth and Fade
Long Range Remote Control Included
Impressive Colorful Effects
Fast, Easy Induction Charging
AVAILABLE NOW IN STOCK!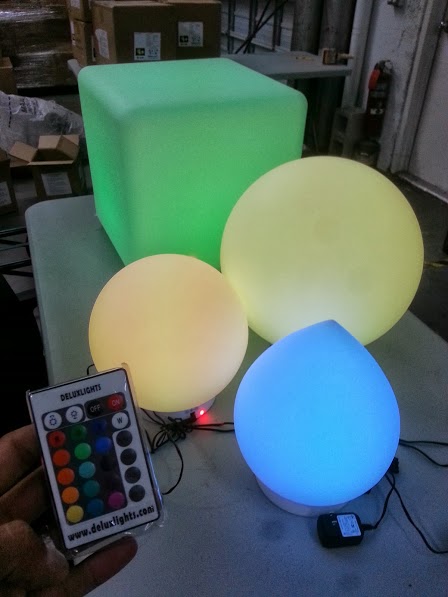 Outdoor LED Light Cube – Changes Color, programmable wireless 8 hours of battery life.
Perfect for sitting as well as well as eating, the Cube is a great addition to any hospitality or commercial patio furniture set.
Great for VIP and sectioned off areas.
The 16" LED cube is lit by LED lights and is safe for your guests to sit on.
Choose any color you would like to feature with the remote.
The cube is not overwhelming to any outdoor space and does not take up tpp much room.
It measures at 16×16 inches.
Nightclubshop.com's outdoor lighting commercial patio furniture is beautiful to see and long lasting.
Any night club with outdoor space could benefit from this fun spin on this commercial patio furniture.
These LED cubes change colors and are remote controlled, also rechargeable and wireless.
ALL LED FURNITURE, LED CUBES, LED TABLES and CHAIRS, LED ORBS, and LED TEARDROPS
Are Wireless Remote Controlled, and Fully rechargeable. The LED Lights up in multiple colors
and remote control selects colors and functions for automatic color change
Product Videos
Custom Field
Product Reviews