Product Description
82" LED BEACH BALL "CADILLAC VERSION"

The biggest of the Bunch of our Cadillac "82 inch" LED beach Balls" This is the "CADILLAC" Version for
several reasons!!! Huge, Big, Ginormous, Gigantic, almost 7 Feet!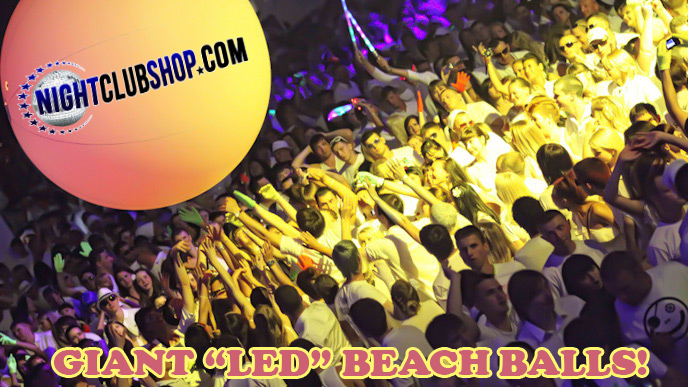 Great for decorations at any night club bar or lounge, write on them with our uv paint and watch these balls come alive.
With the 7 Function High Quality light stick, the "LED Beach Ball" becomes much more than just a glowing ball.
The light stick is customizable to flash colors, show steady colors or fade though out all the colors including purple, pink, green, red, and blue. These are truly the "CADILLAC VERSION" because of the high Quality LED stick that comes with it to place inside.
These 82" LED Beach Balls are a sure hit to light up any event from Festivals, to pool parties to beach parties to kid events and concert scenes.
Simply blow up the LED Beach Ball and insert the light stick for fun with or without the sun, they are great in or on top of crowds and an interactive way to get your dancefloor hype!
We Export and ship WORLD WIDE
Definitely a Super Fun Item for the Dance Clubs and EDM Crowd! These Illuminated, Light up, Glowing, LE, Party Beach Balls can be thrown out into the Crowd and can surf the Crowd all Night long adding an extra bit of excitement and Fun to any Venue.
These LED BEACHBALLS have a pocket/hole, right in the middle that goes all the way into its core, and you stick the Light source inside of them for a secure and properly nestled in GLOW or LED Effect. We carry them in 12" inch, 16" inch,24" inch, 36" inch 48 inch, or Giant 82" inch versions, Pick the "GLOW" Beach Balls for Glow Stick interior , or the Extra Bright "LED BEACHBALL" for our cadillac Version (Supreme).

MIAMI, CHICAGO, ATLANTA, DALLAS, LOS ANGELES, NYC, WASHINGTON DC , SEATTLE, CANADA, MEXICO, CARRIBEAN, PUERTO RICO, HONG KONG, COLOMBIA, SINGAPORE, AUSTRALIA, DUBAI
Other Details
LED Beach Ball
Product Videos
Custom Field
Product Reviews