Product Description
GLOW SILICONE RUBBER WRISTBANDS
With Your LOGO or TEXT
#CUSTOMBRANDING
YOU CHOOSE GLOW COLOR SILICONE WRISTBANDS WITH CUSTOM PRINTING - Per 100 Pack
Once your guests leave your venue they will continue wearing these nice GLOW rubber wristbands (bracelets) which means free marketing and promotion for your Brand/nightclub/venue.
They will be amazed and reminded everytime they are in a dark environment of your Brand because it will immediately GLOW with your Logo embedded in its design!
Great for Branding or keepsakes, special events, vendors and promotions material, also good for revenue generation and resales/Vendors.
GLOW Silicon Rubber Wristbands are a great and effective way to keep control over a large crowd, especially of your backstage, VIP Areas, special party zones and guests.
GLOW Colors or designs can differentiate age, payscale, or groups.
- Choose Glow colors and amounts of each in 100 per order -

- Customizable with text - One size fits all -

- Available in numerous GLOW vibrant colors -

- Stretchy Rubber -
- KEEPSAKES/MEMORABILIA

- Ideal for either wet and dry conditions -

"GLOW Silicon Rubber Wristbands" can be used for almost any event that needs high tech and advanced security including night clubs, bars, special events, lounges and concerts.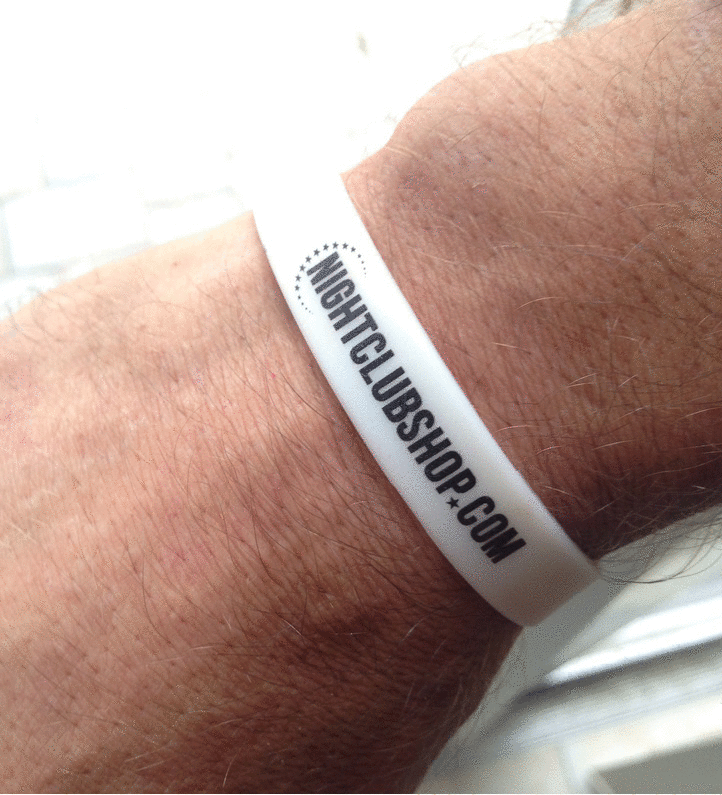 PLEASE CALL 813-720-0409 FOR CUSTOMIZED ORDERS WITH YOUR LOGO OR ART-TEXT

PLEASE CALL For RUSH ORDERS
or e-mail Art to Info@Nightclubshop.com
Product Videos
Custom Field
Product Reviews
You May Also Like...