Product Description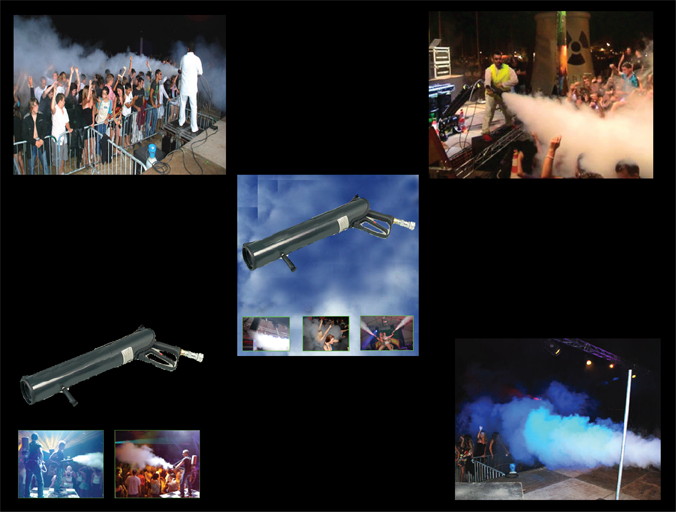 CO2 LARGE CANNON - CO2 PARTY CRYO BAZOOKA
This is a handheld CO2 Cryo Cannon/Gun that we have chosen to call the
CO2 Bazooka because of its sheer size, as well as because of its HIGH CO2 Output.
This is the CO2 PARTY BAZOOKA CANNON that shoots cold CO2 air that is safe to inhale and cool to dance to in a crowd.

Our LARGE CO2 CANNON is one of FEW in the marketplace that has a SAFETY, a built in SILENCER, and COLD DIFFUSER.

The First two features are self explanatory. A safety just like any weapon or tool to put on when not in use, and a silencer to bring the noise level down when discharging CO2 GAS. (They can get loud!)

However, The COLD DIFFUSER is a safety feature not all guns bring and to us at NightclubShop.com, the most important feature any CO2 GUN or CO2 CANNON can have.

The COLD DIFFUSER helps prevent Frozen Ice particle build up on the Tip of the CO2 Cannon and makes it a much safer unit to handle around large crowds. This article in no way is saying that the COLD DIFFUSER entirely stops the Ice Buildup 100% on the Tip of these CO2 CANNONS, but it does do a big job helping to prevent and stop it from happening as frequently and as often. Our LARGE CO2 CANNON has this COLD DIFFUSER built in as a Feature, our SMALL CO2 GUN does not have a silencer or a cold diffuser, but is still a great Special Effect piece. Please check outWWW.NIGHTCLUBSHOP.COM for details on CO2 Guns and Packages.
Nightclubs nationwide use these guns for parties, give to the DJs to blast the crowd or for just plain entertaiment. . This CO2 PARTY BAZOOKA CANNON will turn your party into the talk of the city!!
For More Detailed and in depth information, Pictures and Videos,
Click on this link below to check out our Blog Post on this product:
http://nightclubshop.blogspot.com/2013/05/order-cryo-co2-cannon-co2-gun-party.html

LARGE CO2 CANNON - With Safety, Silencer, and Cold Diffuser.
Best if used with a Larger CO2 Tank but still smaller tank is compatible.


| | |
| --- | --- |
| Model | LARGE CO2 CANNON |
| Height | 9 Inches (22.86cm) |
| Length | 31 inches (78.74cm) |
| Weight | 15 lbs (6.8Kg) |
| Output | High Output |
| Reach | 25'-35' feet (7.6-10.6 meters) |
| Nozzle Material | Metal |
| Pressure Rating | Up to 1100 psi (75.84 bar) |
| Hose LengthPa | Not included (5'Avail.)or(25'Avail.) |
| Warranty | 1 Year - Operational Defect |
CO2 CANNON and 25 FOOT HOSE SHOWN - Nightclubshop.com
Trigger Safety Lever for Safety Precautions
CO2 CYLINDER AND HOSE NOT INCLUDED...
You can ORDER High Pressure and safe hoses from Nightclubshop.com,
We carry the 5'Foot Co2 Hose for the Backpacks, or you can choose a 20'Foot Co2 Hose for more mobility, no backpack on, just connected on stage/side stage to a Large CO2 Tank and 20'Feet of hose lets you roam around the stage will using this incredible CO2 Cannon
YOU WILL HAVE A BLAST WITH THIS GUN!!!!!
Other Details
1 year warranty from manufacturer
Custom Field
Product Reviews